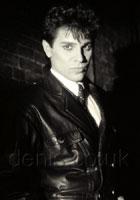 Though I love all the members of Duran Duran, I will say that Roger has always held a special place in my heart. Even though I can play a bit of drums now and then, his playing versus mine is like the comparison of an"2004 Aston Martin:Vanquish" to a "1978 Volkswagon: Rabbit"
I , and many other fans missed you while you were away from the group for that period of time. I just want to say that I feel you are one of the best drummers out there, and all your fans can sense that you do not just "play" drums. You actually "enjoy" playing .I saw that with my own two eyes as well as many others who have seen DD in concert. And that simple desire/love for that talent comes thru in your playing. I believe that makes all the difference in the world.
I am immensely glad you are back. You are awesome...you are a god. We missed you, we love ya!!!!
A Froggy.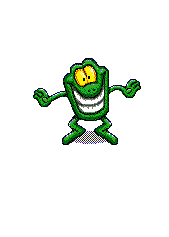 A umm.... Barnacle. *ahem*

Froggy Barnacle
Date of Birth: April 26, 1960
Full Name: Roger Andrew Taylor
Place of Birth: Castle Bromwich,Birmingham,England
Favorite/Favourite (see latter spelling for Roger and all those from the UK):French Dishes
Nickname: See dancing frog gif and barnacle gif *above.heh don't ask..someone actually made a barnacle gif.? *hah* who knew??!!?!? :d
Height:(give or take):5 ft,81/2in. Metric- Approx um....,err..173.75 cm. heh . *phew*
Bands/Albums that Rog liked...well..least in 1984 :
Level 42's-level 42, Chic- Good Times, ABC- Poison Arrow,
The Sex Pistols- Anarchy in the UK, Blondie- Heart of Glass,
and Roxy Music- Is There Something, and Same Old Scene
Favorite Actors/Actresses: Montgomery Clift, Jack Nicholson, Marlon Brando, and Tony Curtis/ Marlene Dietrich, Natalie Wood
Former band(s) prior to Duran Duran : The Scent Organs, and Crucified Toad